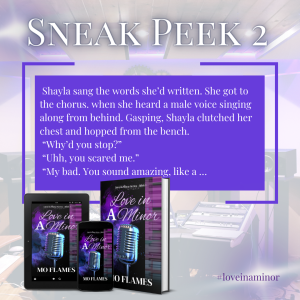 Shayla sang the words she'd written. She got to the chorus. when she heard a male voice singing along from behind. Gasping, Shayla clutched her chest and hopped from the bench. 
"Why'd you stop?" 
"Uhh, you scared me." 
"My bad. You sound amazing, like a … like an angel. Come on. Let's finish." Jamin outstretched his hand. 
Shayla didn't miss the smirk on his face when he reached the bench and motioned for her to sit. 
The sexy grouch had the nerve to be wearing a short- sleeve, red polo, revealing those tatted muscular arms. The relaxed- fit jeans hung right at his waist, and designer sneakers had him looking like one of those models from the magazines. His locs were in a bun. Her heart did a backflip and then a somersault. The beating wouldn't slow down. It was as though she'd ran a one-hundred-meter dash. As soon as he sat down, the intoxicating woodsy fragrance, along with his natural musk, filled her nostrils. Shayla held onto the bench to keep from swooning.
She preferred her sexy grouch's tenor sound. They continued through the song into the next stanza. The hairs on the back of Shayla's neck stood up. She sensed it before, but with him being next to her, there wasn't any denying it. Shayla knew where his eyes were. Twisting her head in his direction, she locked gazes with Jamin. The words resonated loud the moment she crooned them to him. She'd been inspired by him, and looking into his eyes, she found her soul. He had her heart wide open. Jamin became expressive with his hands in the next verse when it was his turn to sing again. Shayla could feel it. He meant every single word. They sang through the chorus to the outro, not once taking their eyes off one another. Their labored breathing was the only sound left in the room after the final note.
Pre-Order Your Copy Here: https://www.amazon.com/dp/B0CKTZGPKH